DESCRIPTION
FAST-FIX is the #1 national chain of dedicated jewelry and watch repair shops. Jewelry business and watch repair is a high-margin business. Our 28 year proven business formula lets you stake your claim to a share of this multi-billion dollar a year industry and puts you right in the action … in a regional mall.
The Fast-Fix Jewelry and Watch Repairs story begins in December 1984 when a first-of-its-kind business – jewelry and watch repair services provided to customers while they waited or shopped – opened its doors within a suburban mall in Pittsburgh, PA.
After replication success four more times over the next two years, Fast-fix awarded its franchise location in 1987 Fast-Fix franchise locations across 26 states as well as five locations in Ireland.
Our stores operate in major regional malls and power centers where visibility and high traffic combine to create an ideal sales generating atmosphere.
Fast-Fix is in search of motivated, qualified candidates to join us as we expand our footprint across the United States, Canada and Europe.
Fast-Fix has skillfully and methodically grown the company into a national franchise leader in the jewelry and watch repair industry.
Our core services – jewelry and watch repair as well as our related services: eyeglass frame repair, engraving, smartphone repair and custom jewelry design will never be outdone or made obsolete by the Internet. People will always need the services performed by expert craftsmen.
Fast-Fix Jewelry and Watch Repairs franchise is the ideal niche for franchisees because our services are recession and internet resistant. That's because jewelry and watch repair:
have a high customer demand
are a year-round business
tend to do well in all economic conditions
In addition, Fast-Fix stores
watch repair & maintenance
have the flexibility of providing multiple revenue streams
are strategically located in high traffic areas, making it convenient for customers and easier for franchisees to grow their business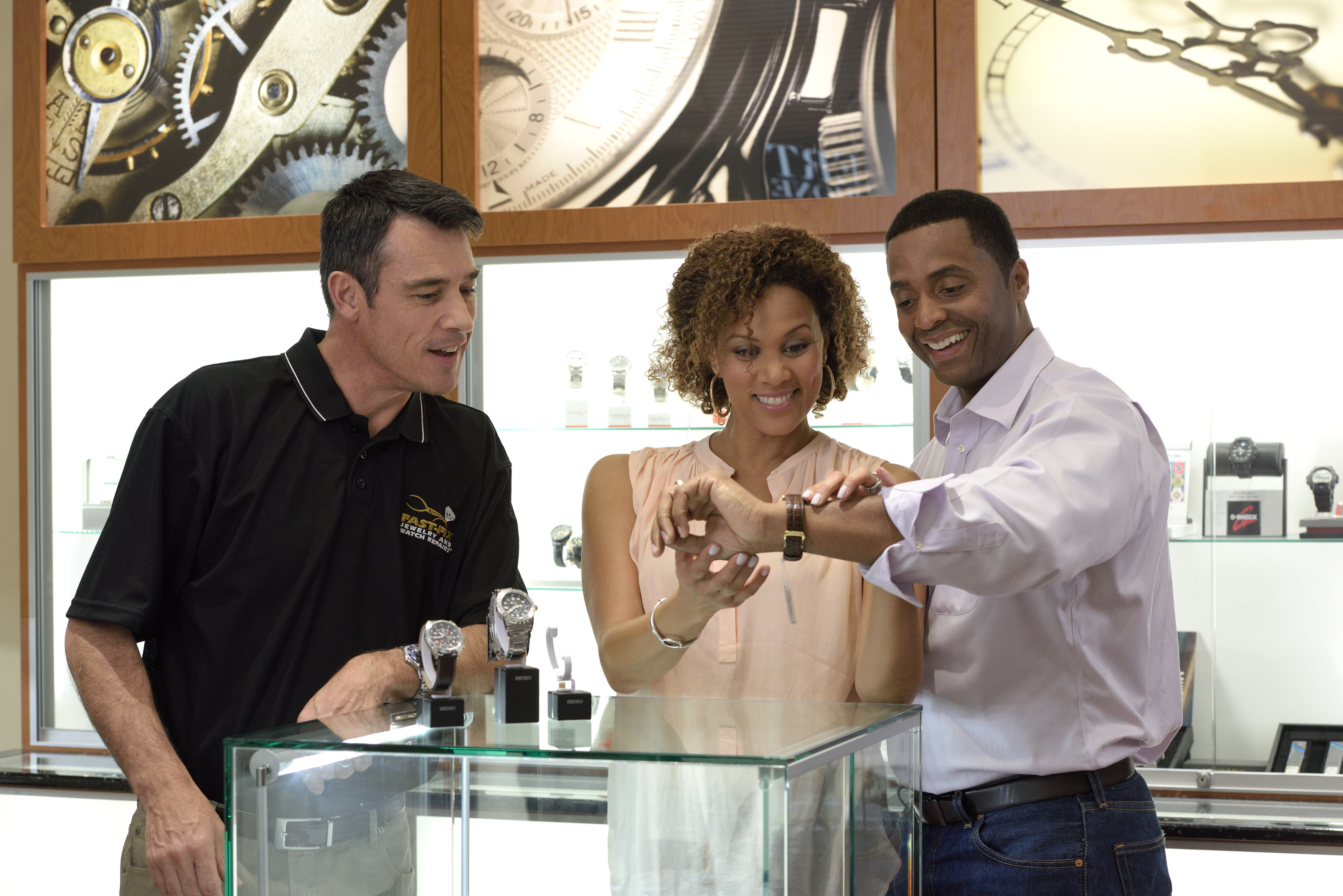 UNIQUE FRANCHISE ADVANTAGES
The jewelry and watch repair business has significant advantages over other retail stores including jewelry businesses. Here are a few:
Unparalleled brand recognition
No national competition
Minimal number of employees
No managing and maintaining costly inventory
Prime franchise availability nationwide in both established and new territories
Fee: $40,000
Investment: $188,750 – $381,750
Video